Over the last three or so years I have been thrown into the YouTube world.  Not by having my own channel, but seeing the industry from the inside.   By also being in education, I ask myself questions like:
What are the positive and negative influences YouTube has younger viewers?
Can having a YouTube personality, whom they look up to, help kids while going through the challenges of junior high and high school?
Does the identity students develop online match how they act when the laptop is closed?
I know I would have been drawn into this type of community when I was growing up.  I lived in a small town of 3,200 people.  There weren't enough girls (ever) to form a girls soccer team, so I always was on the guys team.  90 minutes to the closest mall.  Graduating in a class of 72 people, mostly all white.   We had one movie theater that played only one movie, all week.
Now, with advances in technology there is a sphere online where you can share your identity, whom you really are/want to be, and find others with similar interests.  This can be done between someone in Texas and another online friend in France.   I think this is amazing.
Something else that is very fascinating to me around youtube is fandom.  Some fans behavior becomes more than admiring, they develop crushes on certain celebrities.  Each generation has had their fandom crushes.  Way back, it was Elvis Presley.  Recent could be considered Justin Bieber.  With YouTube, those not interested in someone so mainstream, like the boy-band One Direction (group of fans seen to the left) can find relatable crushes online.
Many YouTuber personalities exist from vlogging (blogging + videoing themselves), so the audience really gets to know them.  Others focus on showcasing talent, but communicate with subscribers through comments, social media, etc.
I keep an eye on Lloyd's social media pages, so I see a good amount of fandom.  He even has a fan page call "The Illest Lloyd you Know." Many of his fans know he his married, so the love professions and marriage proposals are not as frequent.
Here is some fanart that I thought was pretty impressive!
I believe the vid below is supposed to be a joke, but still an example of the extreme.
It got me thinking, what if you really did have (or what you believed to be) a more-than-a-crush on a YouTube star?  Well, from my insider perspective here are some things to think about:
Don't freak them out.  Sending them a tweet or Facebook message every other hour will get tiring.  Writing mean/hurtful comments on their channel is noticed.  Don't message  in all caps, asking why they aren't responding.  OR paying a service to find out their home address, not cool.
 Age matters.  How old are you?  YouTubers aren't crazy (well mostly).  If you aren't above 18, sit tight.  They aren't going to break the law and you probably have some growing up to do.
 Work in the Industry. If you find you like the type of people on YouTube, consider what you can contribute online.  Start a channel, cultivate your talent.  YouTubers hang out with other YouTubers.  Events, projects, onset, etc.  If your channel becomes successful, who knows, you might end up in the same circles.  This would be the more natural way to meet, get to know each other and maybe even date.
 Love for the right reasons.  Ask yourself, what about this YouTuber are you 'in love' with?  For example, just because Lloyd is screaming in most videos, like Dis Raps or Epic Rap Battles, doesn't mean he is like that off set (thank goodness).  Also, while he is a comedian, he isn't cracking jokes 24/7.  Even major vloggers aren't completely showing their entire selves.  I guess what I am saying is, look beyond just the videos.  Think to yourself, what are the major qualities you would want in a partner.   That person could be sitting in class, live down the hall, etc.
 Be a loyal fan.  YouTube personas would NOT exist without you.  Whether Rap Battles exists in five years depends on if you keep watching it.  By the nature of the site, YouTube allows for artist/follower interaction and immediate feedback.  They need you.  Whatever the channel, genuinely share their videos, enjoy their music, and proudly sport the swag merchandise.  But do so because you dig what they do, not just being a super-fan in order to one day have their babies.  Sorry, that is scary-town.
I think Pete's 'Musician of the Year' acceptance speech at this years' Streamy awards acknowledge the role of YouTube viewers just right, saying, "Probably first and foremost, all the people that watched my videos.  Thank you.  You changed my whole life."
I promise I am not writing this post to crush loyal fans' hearts.  I think most fans know the line between the playful crush or genuine admiration to the opposite end of scary stocker.  Let me also say that pursing, dating and being married to someone that produces youtube videos for living is a lot of work.  Any relationships is.  But YouTube personas are always working.  24/7.  The challenge with online interaction through various social media platforms, in every time zone around the world, demands time spent on their phones and computers.  In addition to writing, recording or filming the next video.  That whole work/life balance thing isn't really realistic.
Doing some research on this post, I found some interesting stuff.  Did you know that the original brainstorm for YouTube was a dating site?  Ironic considering this blog topic.  I also discovered an article called 11 things you need to know before dating a youtuber from New Media Rockstars.  I identified with a number of the quotes, minus Kassem G, whom I am sure was kidding.  The truth, it is a lifestyle.
That being stated, for me at least, it is worth it.  At this point, Lloyd could be a bus driver and I would still be his biggest fan.  Front seat, digging his breaking and gear-shifting skills.
Back on topic, I guess what I am trying to say is that meeting and falling in love with a YouTube personality may have its challenges.  From my observation, those in significant relationships had met their partners before they even got into YouTube like the Shaytards, Mike & Kayla Tompkins, Lloyd & I, etc.  When I met Lloyd ten years ago, YouTube didn't exist.  He was performing the L verse (vide below) in Chicago open mics.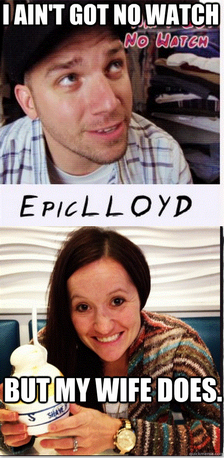 I have been amazed with some of the fans lately.  I have even gotten some shout-outs and birthday wishes from some epiclloyd/ERB fans through their vlogs!  A quick hello & thanks to Danielle, Amber, Shelby and Dana.  These ladies make me feel like I could be crazy enough to start a channel.  Not sure what I would do, but their support of my blogging and on twitter is awesome.
A fan, Shelby (aka @ERBwarriors) made a HILARIOUS meme of us to the right.  Backstory: Lloyd has a song called "I Ain't Got No Watch."  As seen in my picture, I have DO have a watch, a big one at that!  Insider info: It isn't that Lloyd couldn't get a watch, he doesn't like to wear stuff on his hands.  He even thought about a tattoo for his wedding band.  I would happily buy him one, but he wouldn't wear it.
Jenna Marbles, ranked number 3 channel YouTube, with 8 Million+ subscribers, created a 'Draw Your Life' video (included below).  At the end around 7 minutes, she credits YouTube fans to her happiness.  She opens up about being sad and that her fans have made her feel less lost; that fan love and support has changed her life. I found her honesty courageous, I now one of her fans.
In close, if you are a fan of a YouTube celebrity don't get hurt if they don't respond to your marriage proposal or cries for a response on Instagram.  It doesn't mean they don't appreciate you.  As I said before, they love their fans.  Most likely, they are so busy creating videos they do not have time to.  I know this to be a fact for the ERB crew.
Teacher/mother soap-box time.
Make sure you know the difference between your behavior online and real-life. There should not be a difference.  Act online as you would in real life.  Being you in both worlds is a good thing, it is important.  For a start, Google yourself and see what comes up.  Would you be ok with what your 'future' YouTuber boyfriend/girlfriend saw in the content?  What about the future boss of your dream job?  If you pass this and can be the real you on and offline, then maybe you ARE ready to date a YouTuber.